SG&M Inc. designs a wide range of business spaces that reflect cultures, facilitate diverse work styles and ultimately inspire collaboration, productivity and engagement.
We adhere to sustainable practices and a customer-centric approach to conceive, plan and manage custom environments for corporations, retail shops and centres, restaurants, and beyond.
Our work includes:
Commercial/​Mixed Use
Corporate Workplace
Healthcare
Hospitality
Retail
Tech-forward Toronto headquarters for E-commerce Leaders
Location: 500-522 King Street (King & Spadina)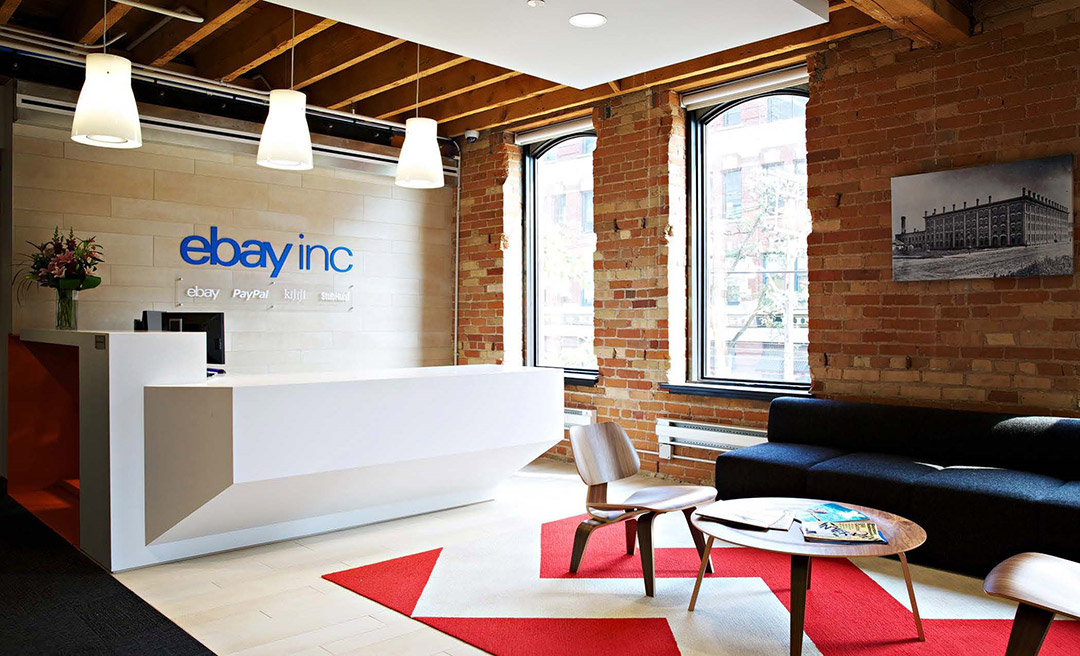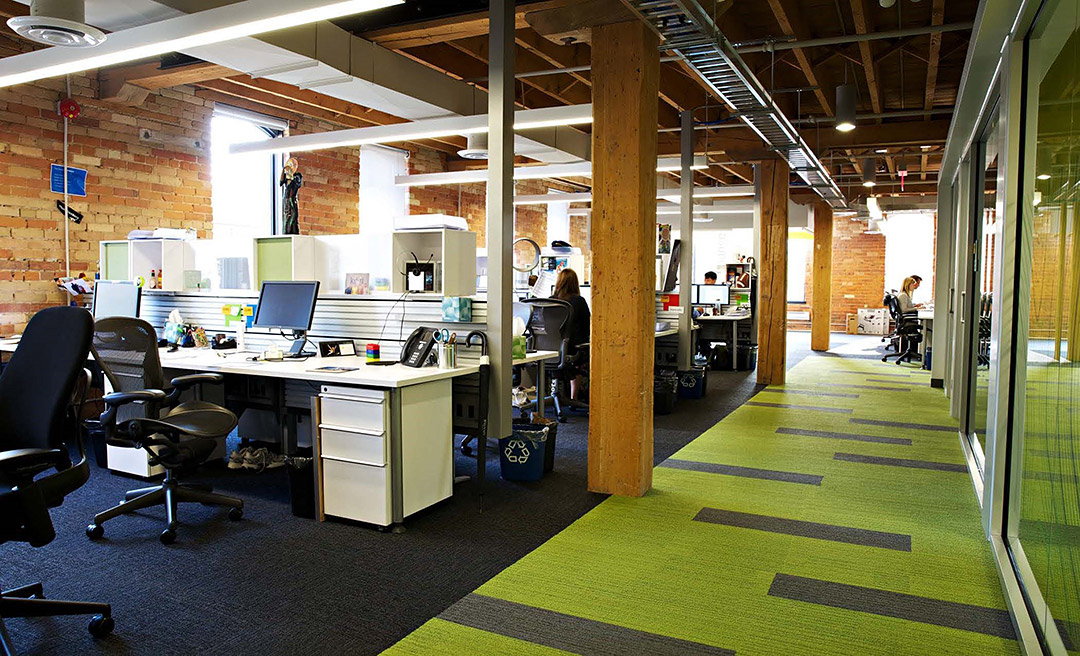 Multinational e-commerce leaders eBay & Kijiji wanted a modern, free-flowing space for their new Toronto headquarters. They needed a large downtown office space that reflected their brand, provided functionality and created a positive uplifting experience for their staff of 120 people.
In 2013, SG&M Inc. collaborated with US partner Valerio DeWalt Train & Associates (VDTA) of Chicago to transform two heritage buildings on King Street into an expansive and free-flowing home base for eBay and Kijiji Canada. Our design team refined and developed the concept plan provided by VDTA and made it compatible for permit and construction in downtown Toronto. We provided important creative amendments  to maximize circulation within the heritage buildings – and seamlessly link two unique spaces. Some other important design elements and project highlights included:
Use of red and green primary colours to underscore brand

Incorporated exposed brick and historic wood posts to retain character aspects of the heritage space and support green sustainability

Installation of several hundred thousand feet of cable to ensure advanced tech enablement of the two e-retail businesses
Within 8 months,  SG&M Inc. had managed to seamlessly link two historic buildings and create a free-flowing, headquarters for eBay & Kijiji, a space that functioned as one cohesive and modern tech-forward office, while retaining rich aspects of its heritage past.
"Sirlin Giller & Malek is an exceptional firm – ego-free, proactive and able to fill in the dots on planning to get client projects to completion… Lawrence heads up a talented team of architects who know high design, but listen more than they talk. That's why they've been our Canadian partner for more than two decades, working with high-profile technology clients like eBay, PayPal & 3Comm."
Louis Ray, Partner
Valerio, DeWalt, Train Associates Inc. (VDTA)
Projects Gallery
CLICK/TAP TO ZOOM IN: